This post aims to promote a Community Discussion about selecting the assets and distribution to include in our upcoming Multi-Asset reserve contract.
GoodDollar's 2022 Roadmap is out there, and the Multi-Asset reserve feature is finally included.
Currently, our GoodReserve contract admits only one asset in its reserve, cDAI, a token that represents the lending or supply DAI balance together with the interest added. cDAI was chosen by GoodDollarV1 protocol designer in order to guarantee low volatility in G$'s price, while projecting a continuous raise in G$s value according to the expected increasing demand through time. As a result, we have seen the following price behavior:


Why to go Multi-asset?
cDAI has proven itself to be a good reserve token to guarantee low volatility regarding the USD, and still give G$ a better performance than any fiat currency out there (~2x in 18 months). But anyone within the crypto space understand that given a proper positioning in the right token could impulse the Gooddollar economy to growth more impactfully in benefit of all our community. For example, in august 2020 price of ETH was 400USD. If we would have chosen ETH as the reserve asset, at today's ETH price (2.800 USD ergo, 7x growth).
Now G$ price would be 14x it's original price rather than just 2x. But we didn´t have the cristal ball back then like to guess such a raise could happen, there was also the implicit risk that ETH could also drop in value, so the G$ token wouldn't have the performance it guaranteed by having a reserve currency pegged to USD like DAI. Therefore, a need for portfolio diversification is coming.
According to Investopedia:
Diversification is a risk management strategy that mixes a wide variety of investments within a portfolio. A diversified portfolio contains a mix of distinct asset types and investment vehicles in an attempt at limiting exposure to any single asset or risk. The rationale behind this technique is that a portfolio constructed of different kinds of assets will, on average, yield higher long-term returns and lower the risk of any individual holding or security.
A well selected portfolio distribution for our Multi-Asset reserve contract will offer, greater long-term growth for G$ value while lowering the risks in losing value or becoming stagnant.
How to select the assets and distribution that goes into the Reserve?
Well, this is the (close to be literal) million dollar question and there's no one answer to this, although there should be one "final" decision.
We need to discuss and agree what do we optimize for, for example:
Price stability.
Growth projection.
Building Strong partnerships.
other (???)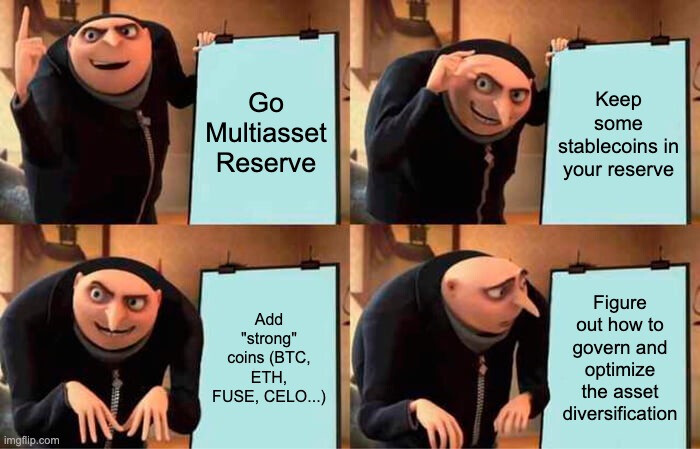 We are confident that diversifying our reserve will bring more benefits than risks to the value of our protocol. In order to improve our growth chances while keeping us safe from big risks, we make an open call to our community to participate in this blog discussion this in order to start gathering feels about what are the preferred assets to select to include in our reserve, and how would we distribute it. Please note that since our Reserve Contract resides over the Ethereum network, we might be able to include only erc20 tokens.
example:
In an market scenario like the one we are facing today (aka bear market), my personal assumption is that there's so much growth opportunities in infrastructure tokens (such as ETH, BTC, FUSE, CELO) I'd propose to keep no more than 40% in stablecoins and the rest 60% in trustworthy assets:
30% in ETH
10% in WBTC
10% in FUSE
10% in CELO
20% in cDAI
20% in RSV
My reasons for the first two is that there's enough market consensus about ETH and BTC being Store-of-Value deflationary assets, with high probabilities in raising in demand in the future years, therefore in value.
FUSE and CELO are there as example of infrastructure tokens over blockchains where G$ is transacted or we are looking for partnerships. DAI is still the safest decentralized stablecoin, and Reserve (RSV) is the diversified stablecurrency of a value aligned project.
Want to see other examples of diversified portfolio projects for inspiration?
Here some examples of many others: